An artistic streak runs in the family. It expresses itself very differently in two generations. I create jewelry and embellish parasols, but my mother is a true artist. She's been drawing most of her life, and was very much inspired and nurtured by one of her art teachers. We both share a love of animals, and she's turned her artistic hand towards capturing loved pets, both ours and now those of customers across the country.
She does craft fairs and shows where she will do quick sketches of people's pets on the spot, and also takes commissioned works, sometimes working entirely from pictures people send her, and sometimes creating montages of animals from completely separate images. She works mainly in pencils, and uses them to create images that look like they're about to jump off the page and into your lap, licking your hand on the way.
Here's some stunning examples of her work:
Firstly, a drawing of my childhood, the kitten that "followed me home" (held in my arms, of course) when I was seven years old, who lived to be almost 21: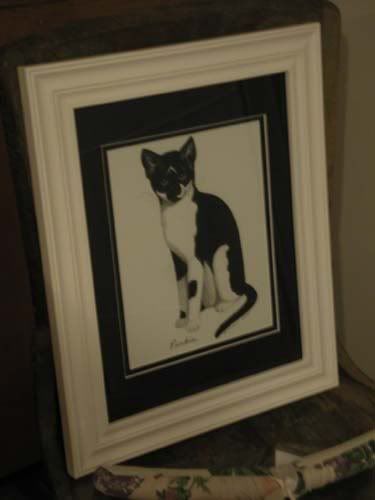 Secondly, another sentimental shot for me, a black mouse, in honor of my very first pet, whom I named Reepicheep, as the Chronicles of Narnia were some of my favorite bedtime stories:
Here's several shots done for customers, including several pets in the "other" category:
You can visit
her website
to view many more wonderful examples of her work.
And while you're cruising the internet, you can also check out my uncle's
conventional and digital art
.