I finally finished it! Stayed up entirely too late last evening (well, this morning really) working on the beadwork, and I just now finished up the last few Czech glass beads. This is a modern battenburg lace parasol, to which I've attached 20 yards of braid, trim, and lace, and spent 10 hours doing hand beadwork to accent the floral pattern of the lace. Click on the image to take you to the listing in my Artfire shop, and to see all the pictures.
An addendum to yesterday's post - you saw my amateur photoshop attempts. Well, here's what I aspire to someday. This is a restoration of a vintage photograph, done by my friend Lily, of Nightshade Studios.
The original picture, and her restoration:
(click on the picture to see the full image, as my blog formatting is cutting off the edge)
She's multi-talented, as she also does art the old fashioned way. And in the image that I use as my avatar for
Miss Victoria's Vintage
, she did my hair and makeup, took the picture, and edited it to give the image the old-fashioned starlet look I love so well: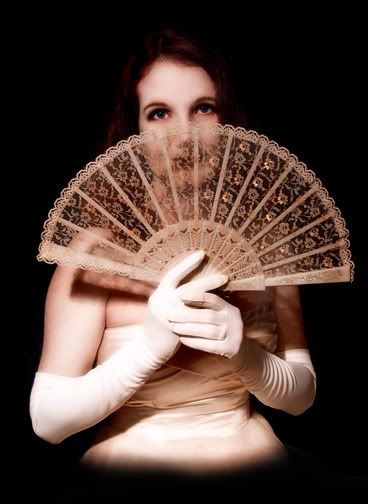 She doesn't have her art or photography online, but she does make
the most adorable little monsters you've ever seen
.